One day as I came home from work, I was hungry and tired. I had skipped lunch due to long meetings. I had the craving to eat something filling (in more complex words I wanted to eat carbs) for dinner. At the same time I wanted to ensure I got my daily dose of some greens and protein. This led to the invention of a dish I call "Penne Salad". The recipe that I share below is for two people.
Ingredients:
Penne – 3 cups (Substitutes – any kind of pasta, spaghetti or gnocchi)
Goat Cheese – 100 gms (Substitutes – feta cheese, cottage cheese / paneer)
Ripe Tomatoes – 2 medium sized
Rocket Salad / Rucola – 3 cups (Substitutes – baby spinach)
Dry Garlic Powder – 1 tsp
Chilli Flakes – 1 tsp (Substitutes – crushed pepper)
Olive Oil – 1 tbsp
Salt to taste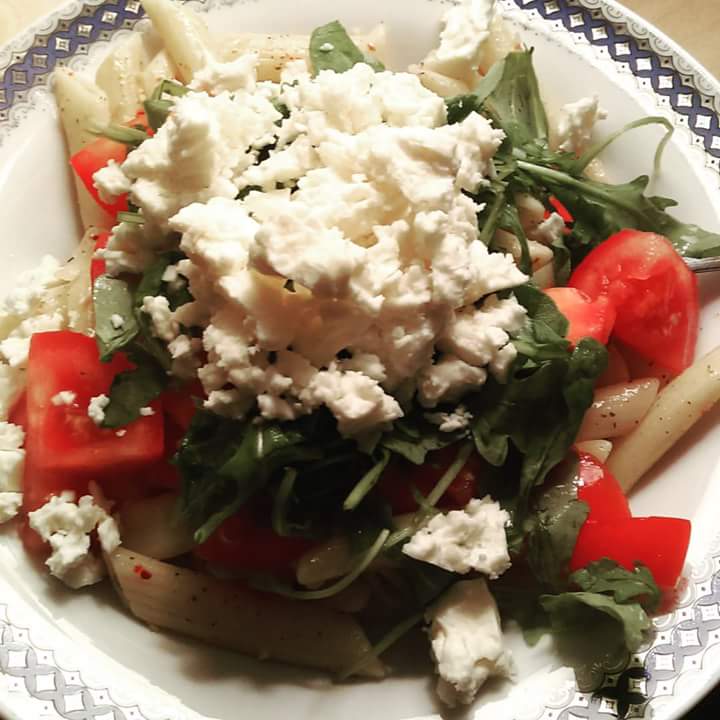 Method:
Boil the 3 cups penne pasta in water. Add 1 tsp of olive oil to the hot water. Once the pasta is boiled and soft enough drain the water.
Mix the rest of the olive oil, garlic powder, chilli flakes and salt to the pasta and mix well. Transfer this to two plates.
Wash the rocket salad well. Drain the remaining water and top the pasta with the rocket salad.
Wash the tomatoes well and dry them. Chop the tomatoes into large pieces and put it on top of the rocket salad in the plate.
Finally crush the goat cheese and put it on top of the tomatoes. Omit the goat cheese if you want to go vegan!!
The salad is now ready to eat. Enjoy!!
Optionally you can also mix all the ingredients in a separate bowl and then serve it in a plate. I personally prefer the first option, since it looks very appealing. As one says good looking food always tastes better 😉
This dish turns out really well. The pasta ensures you get your carbohydrates. Substituting this with a whole wheat pasta is even better. Goat cheese is filled with Vitamin A, B and proteins, which is very very important of your body. Tomatoes are a great source of Vitamin C which helps you build your immunity. Rocket salad is packed with carotenoids, as well as many other minerals like potassium, manganese, iron, and calcium, all of which are beneficial and necessary elements in a person's diet. It has a perfect balance of carbs and greens. It leaves you with a feeling of freshness but at the same time satiates those hunger pangs.
My husband absolutely loved it. It is so simple to make that he tried this out himself and of course added a new twist to it. He added an avocado (into small pieces) to the recipe to add more greens. He loves avocados and just looks for a reason to eat them. Me too! What can I say we both love to experiment!
Hope you enjoy this dish as much as we did. Leave a comment below on how it turned out if you try it out! Hit the follow button to receive updates on my upcoming posts.
Until the next post I wish you all Happy Experimenting!
Cheers,
VeggieLab Amateur Chef