I have now lived away from India from a while now. Additionally we do not have restaurants around where one can enjoy street style Indian food. The only way to eat it is, Do It Yourself! Call it fortunate or unfortunate, it leads to experimenting, to make such delicious street foods at home. Although super tasty and good looking, street food typically is loaded with butters, oils and food colors. All of which in the quantities used, are unhealthy.
Paneer Tikka Frankie, in my opinion can be seen as a complete meal when made in a healthy manner. Paneer gives you the required vegetarian protein. The roti gives you the required carbohydrates. The added vegetables include certain essential nutrients.
Typically making Paneer Tikka Frankie is a multi-step process to make and assemble. I am a lazy cook looking for ways to optimize the process, make it easy and less time consuming. Having a toddler now in our lives time is even sparser. Here I will describe the recipe in a way that one can eliminate the multi-step assembly process and make this dish quickly and easily while keeping ones taste buds satiated.
Let's get started. The recipe below is for low to medium spice level. It will serve 2-3 persons.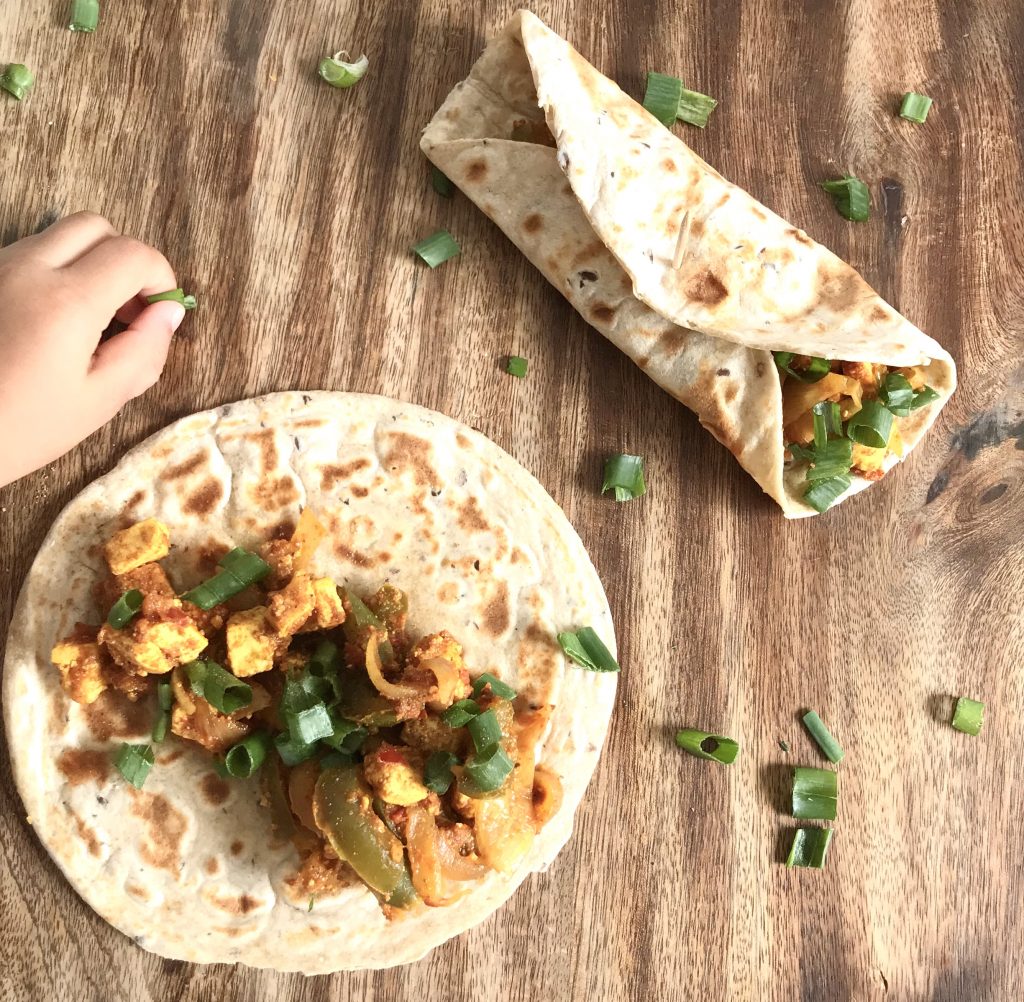 A preview of what to expect….
Ingredients
Stuffing
Paneer – 175 gms cut into small cubes (use Tofu as a vegan substitute)
Tomato – 1 medium sized chopped
Onion – 1 medium size chopped long
Green Paprika / Capsicum – 1 medium size chopped long
2 Spring Onions – 2 medium chopped
Greens of the Spring Onions – 1/2 bowl
Garlic – 24-5 cloves
Ketchup – 1 tbsp
Chilli Sauce – 1 tbsp (optional)
Chilli Powder- 1 tsp (based on your spice level, you can add more or less)
Turmeric Powder – 1/2 tsp
Cumin Powder – 1 tsp
Corriander Powder – 1/2 tsp
Garam Masala – 1 tsp
Chaat Masala – 1 tsp
Yoghurt – 1 cup (use any dairy-free joghurt as a vegan substitute)
Oil – 1 tbsp
Salt
Roti
Multi-Grain Flour – 2 cups + 1/2 cup for rolling
Crushed Flax Seeds – 1.5 tbsp
Oil – 2 tbsp
Water – 3/4 – 1 cup
Ghee – 1/4-1/2 tsp per roti (optional)
Alternately one could used store bought rotis or tortillas
Method
Stuffing
Take a bowl. Add the paneer cubes and joghurt to it.
Add the masalas i.e. turmeric, chilli, cumin, corriander powders, chaat masala, garam masala and about a tsp of salt.
Mix all of this gently and marinate the paneer for minimum 30 minutes. Longer the better.
I marinated the paneer overnight in the refrigerator so as to prepare it quickly the next morning.
Chop the onions, spring onions and green paprika long.
Chop the greens of the spring onions round and keep them aside for garnishing.
Crush the garlic using a garlic crusher or grate it.
Add the oil to a pan and cook over medium heat. Once its warmed up add the garlic and saute it.
Once the garlic is sauteed. Saute the onions for about 5-6 mins.
Add the paprika and about 1/2 a tsp of salt and saute further for about 3 mins.
Add the marinated paneer. Mix and let it cook for a further 5-6 mins. Paneer can be easily made at home for this dish. I have used homemade paneer made of wholemilk.
Finally add the ketchup and chilli sauce. Cook for about 1 mins.
Cover the pan and let the masalas soak in for about 2 hours (ideally). Taste and adjust the salt as required. Your stuffing is now ready.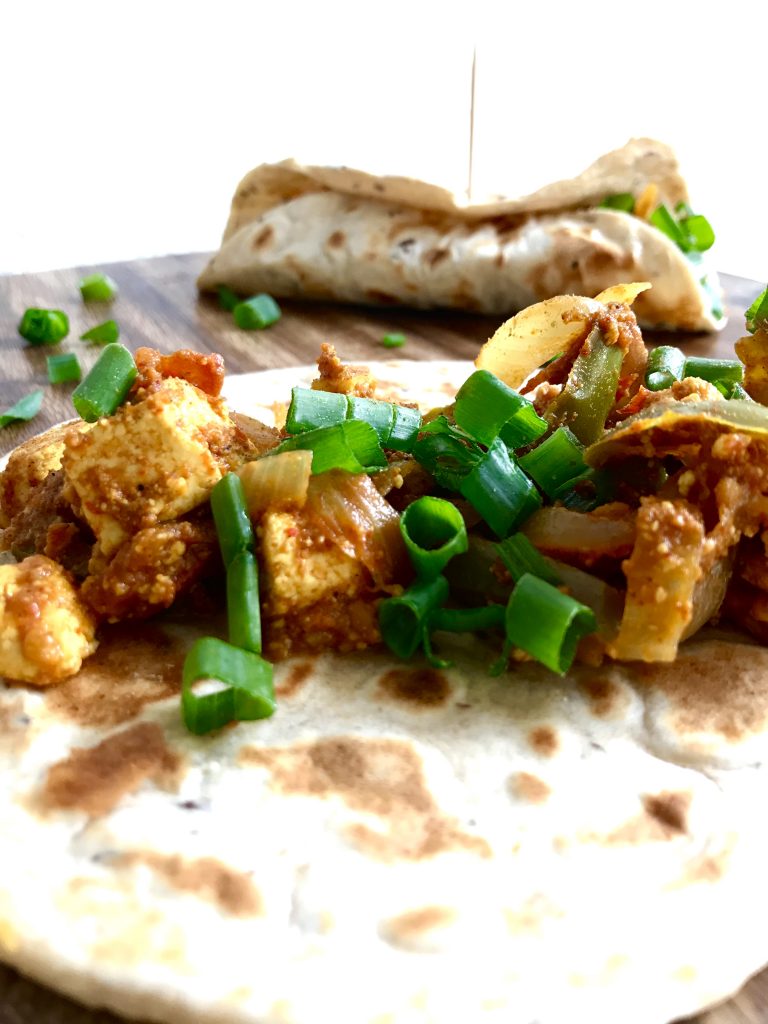 Roti
Take a bowl. Add the dry ingredients and mix.
Add 1 tbsp oil and mix into the dry ingredients.
Slowly add water only little by little and continue kneading the dough. The dough must be tight but not too hard. It must also not be sticky. The dough might need varying amounts of water depending on the flour.
Finally add 1 tbsp oil and knead the dough for 15-30 more seconds.
Rest the dough for atleast 15-20 mins before starting to make the rotis.
Roll the dough into small balls (approx 2 inch in diameter). Dust them with flour saved for rolling.
Flatten the ball and gently roll with a rolling pin to the desired thickness.
Roast the roti on high heat/flame until golden brown on both the sides.
Apply ghee on the roti and store in a box laden with a tissue.
Simple Assembly
Take the roti and lay the stuffing on top. Top with the chopped greens of the spring onions or other veggies of your choice (optionally). Roll and eat.
Most of the spices and veggies are already inside the stuffing reducing the time to assemble, store and make overall.
However, optionally you can apply some chutney or sauces of your choice to it.
Serve nice and warm.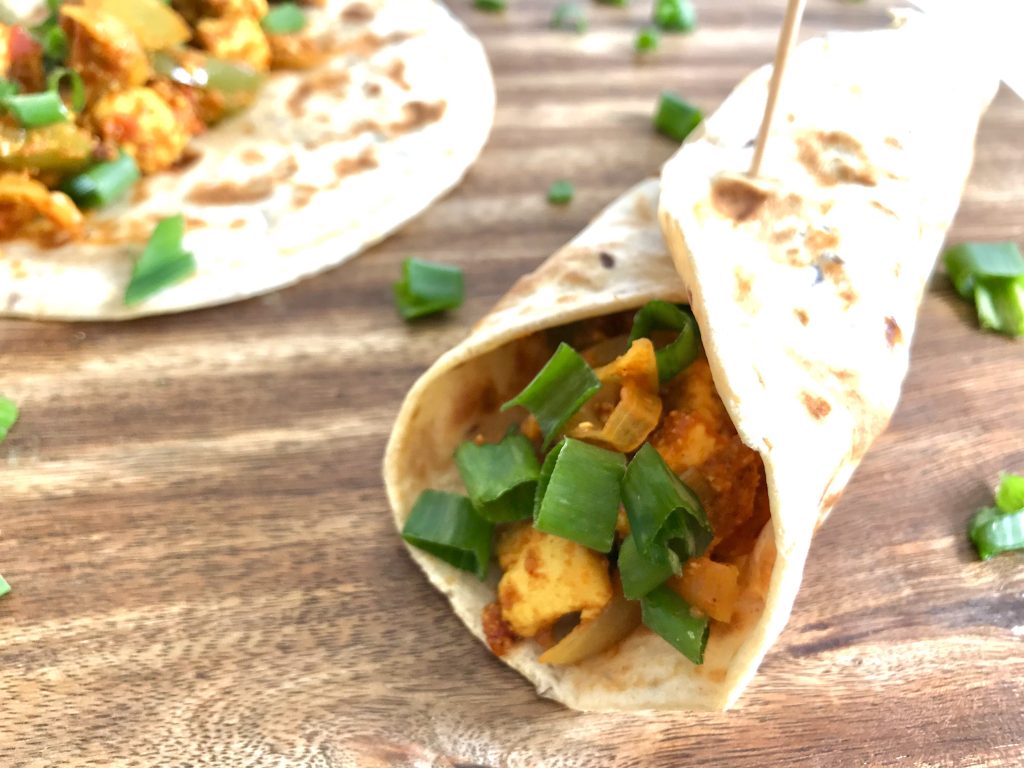 Easy Paneer Tikka Frankie – Simpliest to Assemble and Eat
Although it has no maida and little fat it can match up to being the tasty homemade version of the roll and something that can be eaten totally guilt free.
Do try it out for your family. Hope you enjoy this dish as much as we do. Leave a comment below on how it turned out if you try it! Hit the like button and follow button to receive updates on my upcoming posts.
Until the next post I wish you all Happy Experimenting!
Cheers,
VeggieLab Amateur Chef