Pancakes are slowly and steadily becoming a weekly or even bi-weekly staple in our household. The name pancakes in itself makes one think of it as an indulgent food to be saved for a special occasion or a special sunday brunch. However after having experimented so much with it, I have tried to convert the recipes into something easy, healthy and to a great extent guilt-free.
Two weeks ago I experimented with the recipe which I have to say is absolutely gold or rather let's say rose gold 😉 These pancakes get the lovely pink rose gold color due to the special ingredient which is used here, i.e. beetroot. I am currently obsessed with using all kinds of super food vegetables and converting them into delicious and like-able foods.
I hated beet root as a child. My mother would force us to eat it since it is so healthy. She was absolutely correct in the fact that it is very healthy since it is a great source of fiber, folate (vitamin B9), manganese, potassium, iron, and vitamin C. All of these are extremely essential for growing children and adults alike. Beetroots and beetroot juice have been associated with numerous health benefits, including improved blood flow, lower blood pressure, and increased exercise performance (so all of you into working out, note this). However, all of this made no sense to us as children. All we could think about was how bad it tasted and that we were being forced to consume it. So now, just as my mother was, I am determined to feed my child this amazing super food however, willingly.
So without further delay let's dive into this simple recipe. So let's collect everything we need. This should be good to serve 2 persons.
Ingredients
Beetroot – 1 medium sized boiled and grated
Banana – 1 mashed ripe banana
Oats – 1/2 cup of rolled oats
Flour – 1/2 cup Aashirvaad multigrain flour (can use any flour of your choice)
Jaggery Powder – 3 tsp
Salt – 1 pinch (optional)
Water – 1/2 cup
Maple Syrup – 1 tbsp (optional)
Strawberries – 1 cup (any fruit of your choice)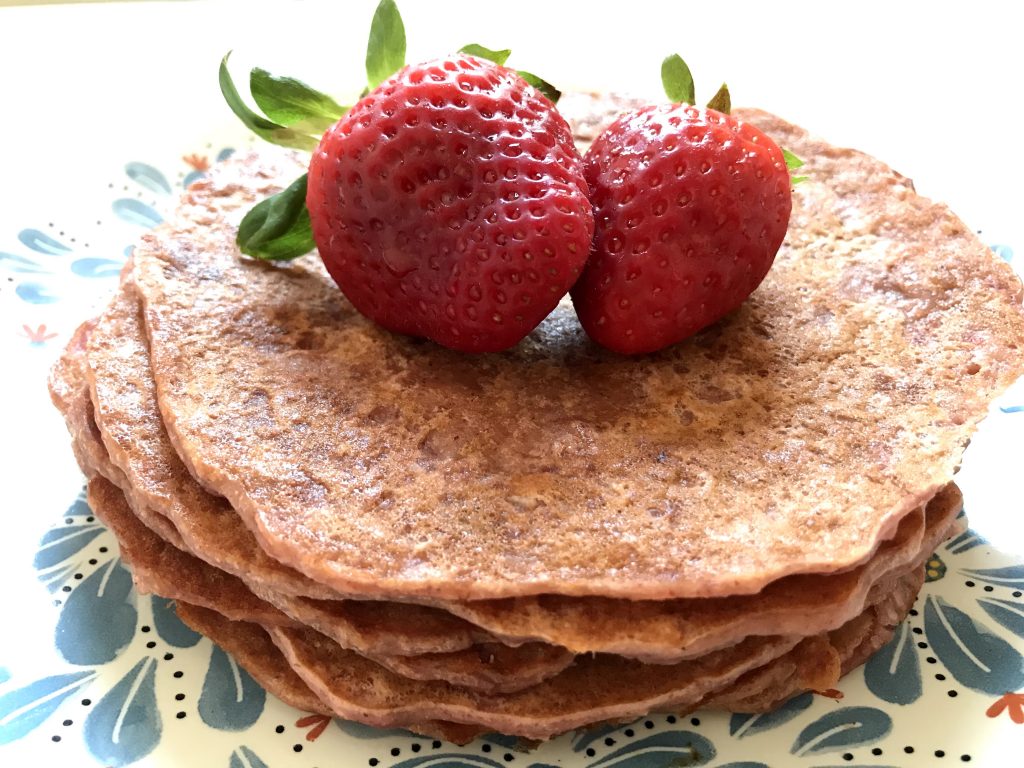 Method
Take a bowl.
Mash a ripe banana with a fork in the bowl.
Grate the boiled beetroot and mix with the mashed banana. if you have an aversion t beetroot start by using a small beetroot and increase the quantities slowly over time.
Add the oats and flour to the bowl slowly mix in the water to get a pancake batter consistency. You can add more water if needed.
Finally add the powder jaggery and mix well. If you don't have powdered jaggery you can grate some and add it. Alternately you can use 3-4 pureed dates instead.
Let it rest for 10 mins. Add some water if required.
Pour 2 tbsp of batter to a hot pan and flatten it out. Keep the thickness as per your desired preference. Roast until golden brown and toss to roast on the other side.
It is now ready to eat. Can be served hot. Top with maple syrup and strawberries.
For my toddler I did not put the maple syrup.
It is a sweet treat for everyone of all age groups.
Do try it out for your family. Hope you enjoy this dish as much as we do. Leave a comment below on how it turned out if you try it! Hit the like button and follow button to receive updates on my upcoming posts.
Until the next post I wish you all Happy Experimenting!
Cheers,
VeggieLab Amateur Chef