I was introduced to couscous a couple of years ago but it never struck a cord until the day I decided to experiment with it by adapting it to my Indian taste buds. The idea of Couscous Biryani came to my mind. When I googled it, I indeed found out many people have tested this idea. So I can say there are many more like me who actually love this dish. Although I didn't really follow any one particular recipe, I used the available spices and vegetables to make a version of my own.
Couscous is a food item eaten since ancient times. It has been prepared by a group of people called Berbers. Berbers were preparing couscous as early as 238 to 149 BC. Researchers describe that primitive couscous pots have been found in tombs dating back to the reign of the Berber King Massinissa. The remains of these were found in a region of modern day Algeria. To this day, couscous is known as 'the North Africa national dish'. Most couscous we buy today has been pre-steamed and dried hence making it is a quick process. Couscous has 3.6 g of protein for every 100 grams. Furthermore, couscous contains a 1% fat-to-calorie ratio.
So without wasting more time let's get started by collecting the ingredients. It takes about 20 mins to prepare and will serve 2 persons.
Ingredients
Couscous – 1 cup
Water – 1.5 cup
French Beans – 1 cup chopped french beans
Onion- 1 onion chopped
Potato – 1 large chopped
Cumin – 1 tsp
Cumin Powder – 1 tsp
Chilli Powder – 1/2 tsp (you can adjust this based on your preference of spice)
Turmeric Powder – 1/2 tsp
Garam Masala – 1 tsp (optional)
Black Pepper Powder – 1/4 tsp (optional)
Brown Sugar – 1/4 tsp (optional)
Garlic Powder – 1 tsp
Asofeotida – 1/4 tsp
Oil – 2 tsp
Lemon Juice – 2 tsp fresh lemon juice
Salt to taste
Method
Boil 1.5 cup water and add couscous to it. Boil for about 10 mins. If there is extra water drain it out. Make sure it doesn't overcook.
While the couscous is boiling start by washing the french beans. I used french beans, onions and potatoes. You can pretty much use any other vegetables you may have in your kitchen.
Easiest way is to multi-task if you can. Firstly peel the potatoes and chop them.
Add the oil in the pan on high flame. Add the cumin seeds when they start to crackle. Quickly add the asofeotida. Finally add the chopped potatoes and saute for 5-7 mins. Mix occasionally.
In the meanwhile chop the french beans first and add them to the pan to saute along with the potatoes.
There after chop the onions and add to the pan and continue to saute the vegetables. The reason we add the vegetables in this order is due to the varying cooking times these vegetables need.
If you do not like to multi-task chop all the vegetables upfront and then add one by one as described to the pan. In about 10 mins all the vegetables should be cooked. Check by poking a knife to the potatoes to check if they are cooked.
Next add all the spices and salt and mix well.
In this much time your couscous should also be done. Drain the remaining water, if any. Reduce the flame to low and add the couscous to the vegetable mix. Mix well.
Switch the flame off. Add the lemon juice and mix. Serve hot.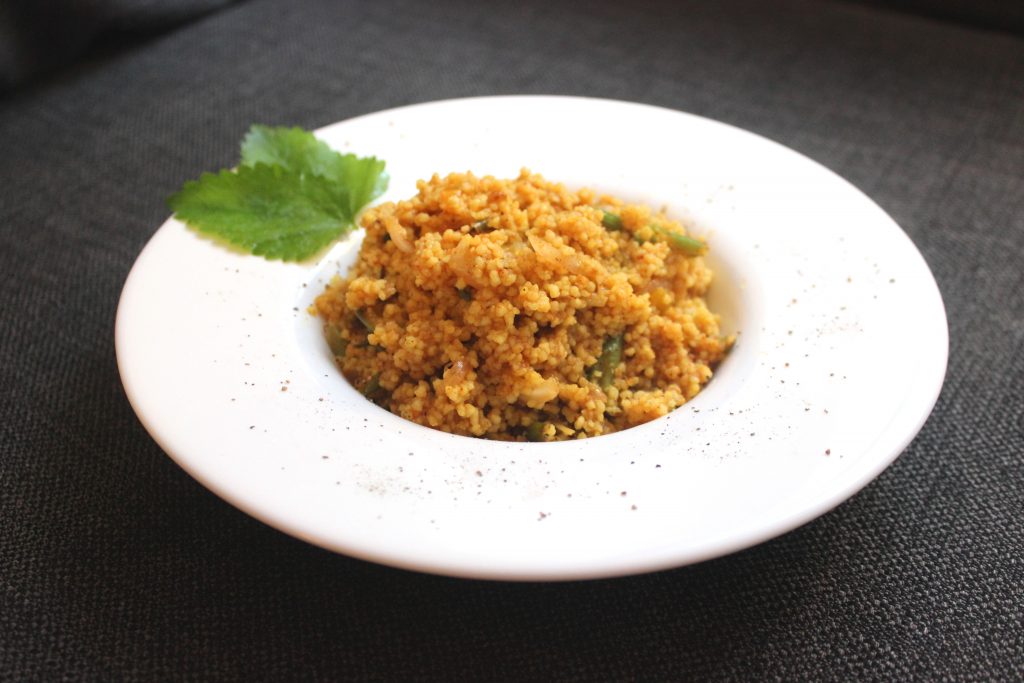 It goes well with Yogurt. It is totally vegan. The beauty of this dish is that, unlike the traditional biryani it is less time consuming. Couscous is wheat based and hence has less starch compared to rice making it lighter on the stomach. It tastes equally good if you can deal with a different texture. A few days after making this dish I made the traditional biryani with Basmati rice and my husband actually asked me why I didn't use couscous. He really prefers couscous biryani over the traditional biryani since it is much lighter on the stomach. It is our new go-to dish when we are too bored to cook but still want to eat something delicious. So as you can say "We Love It!".
Hope you enjoy this dish as much as we do. Leave a comment below on how it turned out if you try it! Hit the like button and follow button to receive updates on my upcoming posts.
Until the next post I wish you all Happy Experimenting!
Cheers,
VeggieLab Amateur Chef