A few days ago a dear colleague of mine asked me if I liked apples. Ofcourse who doesn't like apples, they are the most versatile fruits of all. Well apparently she was at her mother's house over the weekend, who has an apple tree in the backyard. This beautiful apple tree had given a bountiful of green and sweet apples. She had a ton of them and gave me about a dozen to try out. I was excited at the idea of making cinnamon apple crumble with non-commercially grown apples 😉
The magic of this particular dessert is that it uses minimal sugar since the apples are sufficient to give the natural sweetness. Moreover it can be easily converted to a completely vegan dessert. I use cinnamon as the main flavour and this always brings a very warm feeling in my heart. It reminds me instantly of holiday season. Cinnamon is a wonder spice. Let's have a look at some of top three benefits.
High Source of Anti-Oxidants – According to researchers,cinnamon actually ranks #1 in terms of its protective antioxidant levels of the most popular herbs and medicinal spices in the world! The protective antioxidants reduce free radical damage and slow the aging process.
Anti – Inflammatory Properties – The antioxidants in cinnamon have anti-inflammatory effects, which may help lower the risk of heart disease, cancer, brain function decline, and more.
Fights Infections and Viruses – There are many benefits of cinnamon when it comes to defending the body from illnesses. Cinnamon is a natural anti-microbial, anti-biotic, anti-fungal, and anti-viral agent. The immune-boosting abilities of cinnamon are found in cinnamon's essential oils.
So I do not want to make you wait longer. It is super simple to make. Let's get started by collecting the ingredients.
Ingredients
Apples- 6-7 large apples
Cinnamon – 3 tsp powdered cinnamon
All purposed Flour – 1 cup 
Butter – 75 gms (for vegan alternative use 2 tbsp of vegetable oil or coconut oil )
Water – 1/2 cup
Sugar – 2 tbsp
Salt – 1 pinch
Method
Start by washing the apples. Peel the apples and chop into medium size pieces. Rub in a pinch of salt.
Pre-heat the over to 170 deg celcius.
Transfer the apples to a baking tray or ceramic bowl. Add 2 tsp of cinnamon powder and 1/2 cup of water. Cover with a aluminium foil or plate. Put it in the oven and bake for 15 mins.
While the apples are getting slightly cooked let's start preparing the crumble. Start by melting the butter. Add 1 tbsp of water, 1 tbsp sugar and 1 tsp of cinnamon. Mix well.
Add the flour on top and mix with spoon to form crumble like you see in the pic below.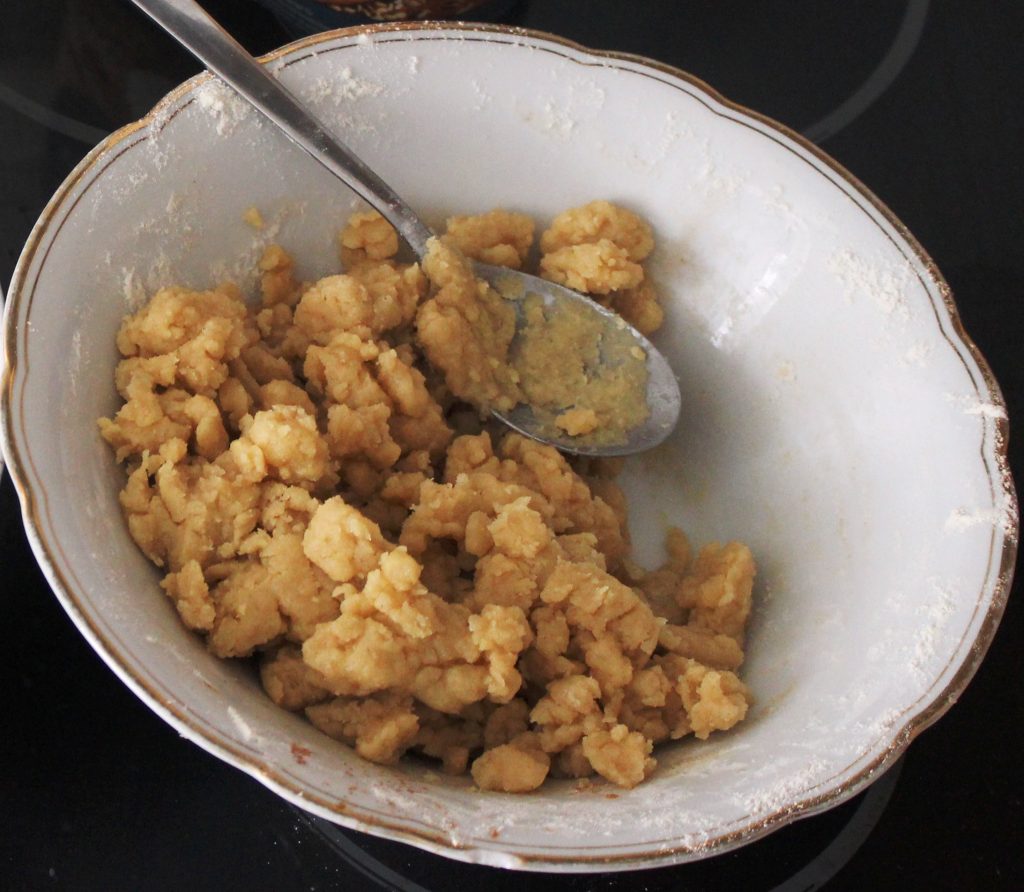 Take the cake tin or ceramic bowl out of the bowl and layer with the crumble. Put it back in the over and bake for another 20 mins at 170 deg celcius.
Voila! your crumbly, warm and soft Cinnamon Apple Crumble is ready to eat. You can eat it warm or cold. But I recommend to eat it warm. It goes well if you top it up with some vanilla ice-cream, if you feel rather indulgent 😉 It is so simple to make and is rather fast. Everyone loves it and also low on guilt 😉 It is one of our favorite go to desserts!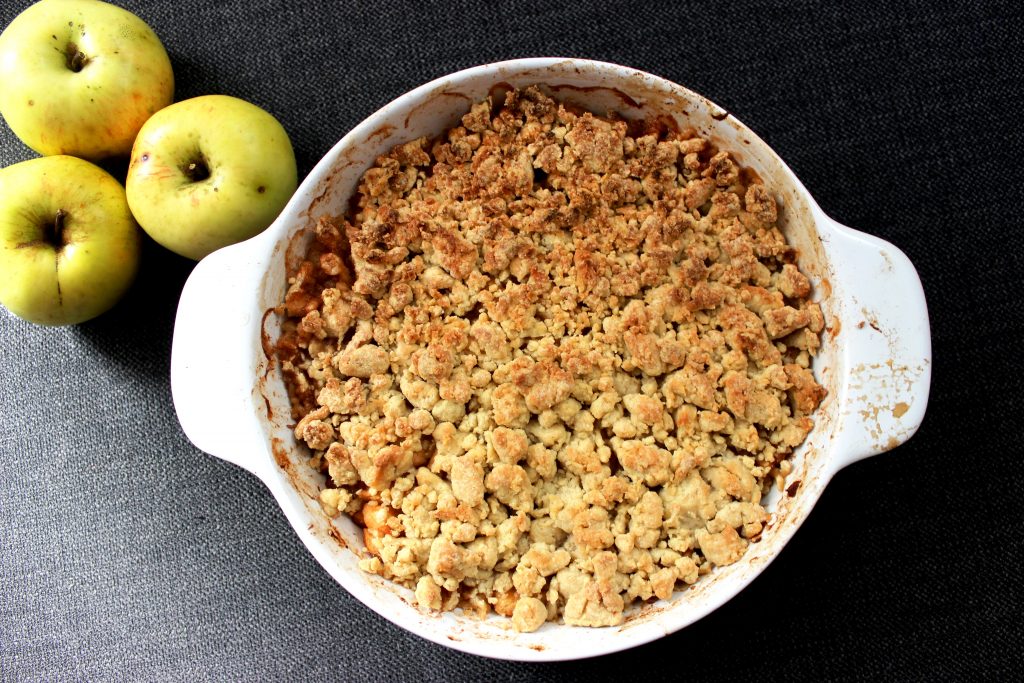 Hope you enjoy this dessert as much as we do. Leave a comment below on how it turned out if you try it! Hit the follow button to receive updates on my upcoming posts.
Until the next post I wish you all Happy Experimenting!
Cheers,
VeggieLab Amateur Chef