The creative chef in me, arose today. I absolutely love pizza, but had already too many pizzas this week. To be precise three times last week. So filled with guilt, but still craving for some more, I decided  it was time to let those creative juices flowing. Leading to the invention of this beautiful guilt-free, gluten-free, vegan pizza. Trust me it's as tasty as it looks and no less than any other pizza.
I call it gluten free since I do not use any flour to make the pizza base. It is made with none other than boiled potatoes. Further more its vegan due to no cheese. You could add some vegan cheese on top, but then I wouldn't be as confident 😉 to call it totally guilt free or diet friendly. I must add that I am not a huge fan of dieting. I would say eat what ever you feel like, the key is controlling the portions and adding physical activity in your daily life. BUT, this is my personal opinion.
So let's get back to the pizza. It might take a bit of more effort to make this than my usual super quick fixes. But I must tell you it will be worth the work without making you think twice before eating it all up. So let's begin by collecting the ingredients we need to make this pizza.  It should suffice 2 persons.
Ingredients
Potatoes – 3 large size
Onions – 2 medium size
Tomatoes – 1 garden fresh medium size
Basil – a handful leaves
Oregano – to sprinkle on top (optional)
Chili Flakes – 2 tsp 
Garlic – Dry powder to sprinkle on top (also optional)
Lemon – to sprinkle on top (Optionally. I just love lemon, i think it makes everything taste even better and plus why should one say no to Vitamin C – the immunity boaster)
Sesame Seeds – Black and White (optionally to sprinkle on top)
Turmeric – 1/2 tsp (this is not for flavor but rather health benefit – as shared in my previous recipe its a great blood purifier to try to add it in small quantities to everything)
Olive oil – 1 tsp (optionally regular cooking oil or ghee can also be used)
Salt to taste
Method
Pizza base
Peel and chop the potatoes into large to medium size pieces. Then boil them. The trick here is if you peel them and boil its a lot faster. Plus after its boiled you should rinse and dry them a bit to remove the extra starch (making it more guilt-free). If you are interested in a jain version write me a message and I can share a trick with you (although i haven't tired it yet myself 🙁 ).
Chop an onion finely.
Mix the onions, potatoes, turmeric, 1 tsp of chili flakes and salt to taste. Mash everything together.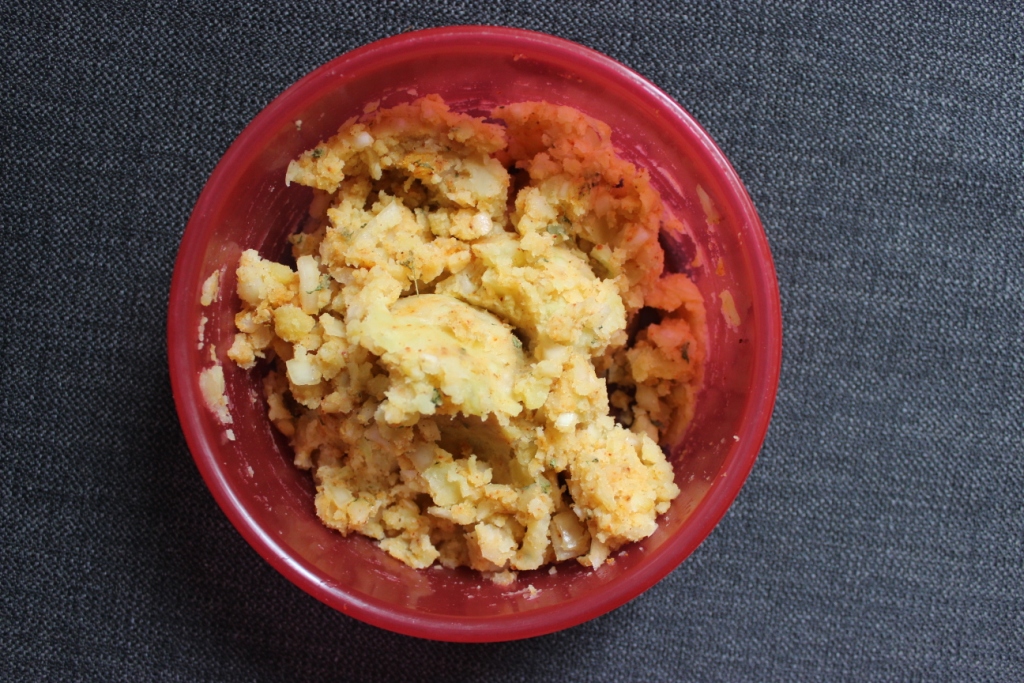 Lay baking paper in an oven plate and lightly grease it with 1/2 tsp olive oil.
Lightly pat the mashed mixture into a think pizza base like shape and size.
Preheat the oven to 200 deg Celsius. Put the base in the oven and bake it for 10-12 mins until its turned lightly crispy to a beautiful golden brown color.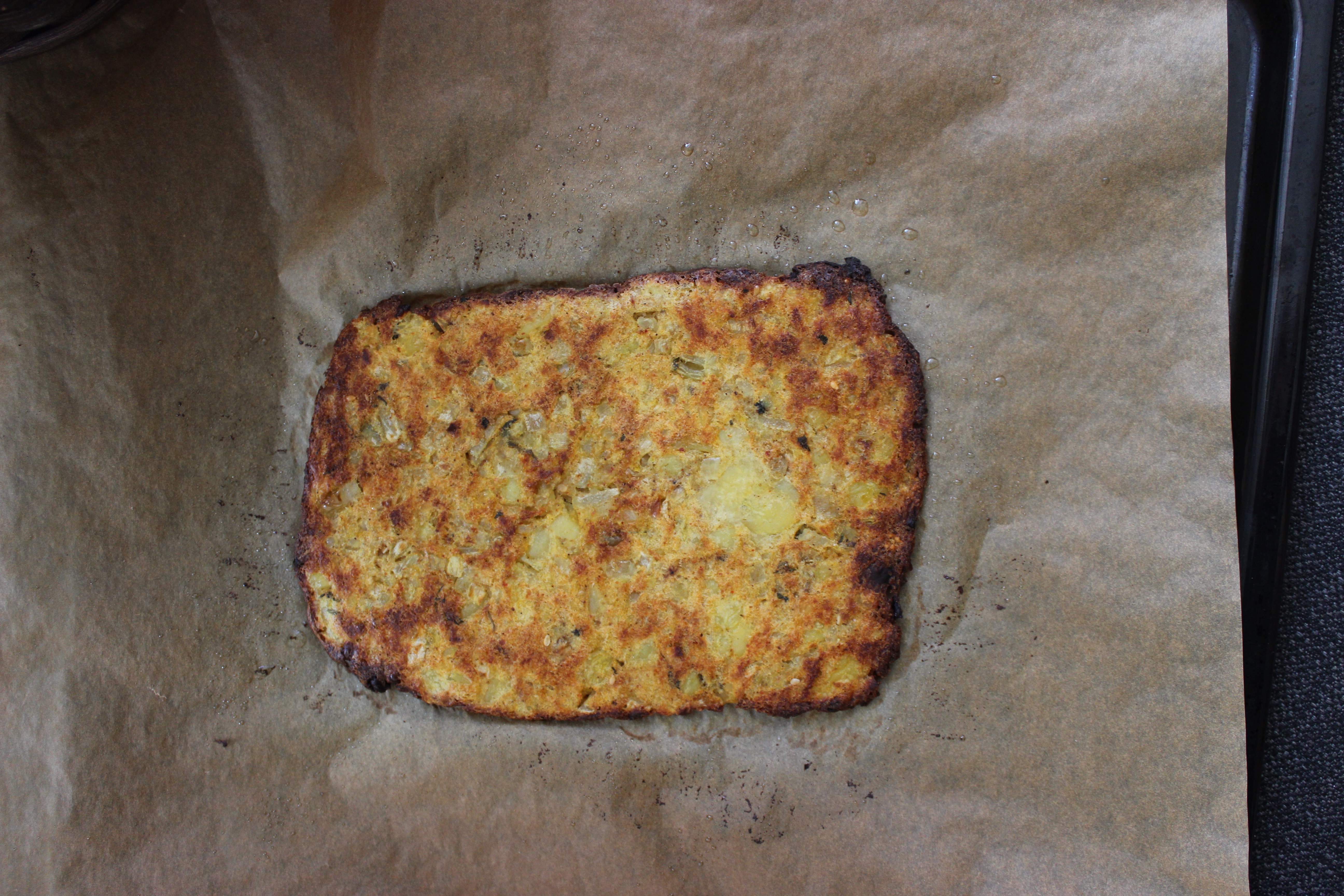 Pizza Toppings
While the base is getting baked, chop the onions and tomatoes. Wash the basil leaves.
Take the base out of the oven. Top it with tomatoes, onions. Bake it for another 5-6 mins in the oven at 180 deg Celsius.
Take the pizza out and sprinkle with lemon (freshly squeezed), sesame seeds, salt, chili flakes, garlic powder and oregano. Top with fresh basil leaves.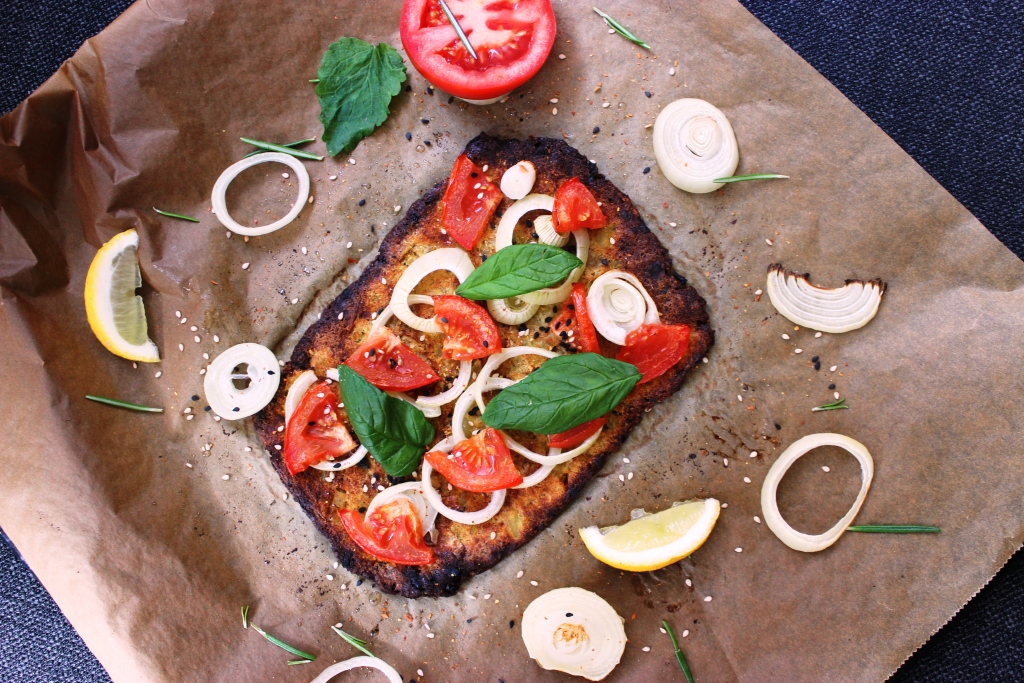 Voila your pizza is ready to eat. Its nice and crispy. As I say feel free to experiment. Choose your favorite toppings such as jalapenos, olives, corn, paprika, pineapples or whatever is available in your kitchen to make this into your dream guilt-free pizza.
Hope you enjoy this dish as much as I did. Leave a comment below on how it turned out if you try it! Hit the follow button to receive updates on my upcoming posts.
Until the next post I wish you all Happy Experimenting!
Cheers,
VeggieLab Amateur Chef
Also posted on: https://completewellbeing.com/recipes/guilt-free-gluten-free-vegan-pizza/
A great place to get tips on overall well being!