Chila is something I can never refuse, especially if it's nice and crispy. I grew up with having all kinds of chila made by my mother. She just spun up things to eat with whatever ingredients came to her hand. Sometimes the experiments were successfully but at times we felt like unlucky guinea pigs. But one thing she always got spot on was 'chila'. So I kind of inherited her knack for chila making but never a recipe! 😉 For all my friends out there who have never heard of chila – it is nothing but a savory crepe.
I make this mixed grain chila with mixing whole wheat, sorghum, pearl millet and gram flour. Each of these flours have several health benefits.
Sorghum or Jowar – When compared to rice and wheat, Sorghum has a higher content of calcium. Besides calcium, it also packed with iron, protein and fibre.  It is a gluten free flour.
Pearl millet or Bajra – It is mainly made of starch making it a high-energy food, contains niacin, a vitamin that plays a crucial role in lowering cholesterol levels, thereby preventing heart disease. Pearl millet is rich in insoluble fibre that helps in digestion.
Gram flour or Besan – It contains high levels of proteins. It is also totally gluten free.
So let's get started and collect all those ingredients. Surprise, surprise this is totally vegan and can be made gluten free as well!
Ingredients
Sorghum flour – 2 tbsp
Pearl Millet flour – 2 tbsp
Gram flour – 1 tbsp
Whole wheat flour – 1 tbsp (for gluten free version – replace this with Sorghum)
Semolina – 1 tbsp (this adds a little extra crispness to the chila, for gluten free version – replace this with Sorghum) 
Coriander – 1 tbsp chopped finely
Black Sesame – 2 tsp
Red chili powder – 1 tsp
Cumin powder – 1 tsp
Turmeric powder – 1/2 tsp
Garlic powder – 1 tsp
Asafoetida – a pinch
Vegetable or Sesame Oil – to roast
Salt – as per taste
Water – 2-3 cups
Method
Mix all the dry ingredients.
Add the water one cup at a time and whisk it together to the consistency of pancake batter. It should be dripping and easy to spread.
Spread the batter on the non-stick pan or a crepe pan.
Roast it on medium flame. Sprinkle some oil on the chila. Roast until golden brown.
Turn around and roll it. Serve hot.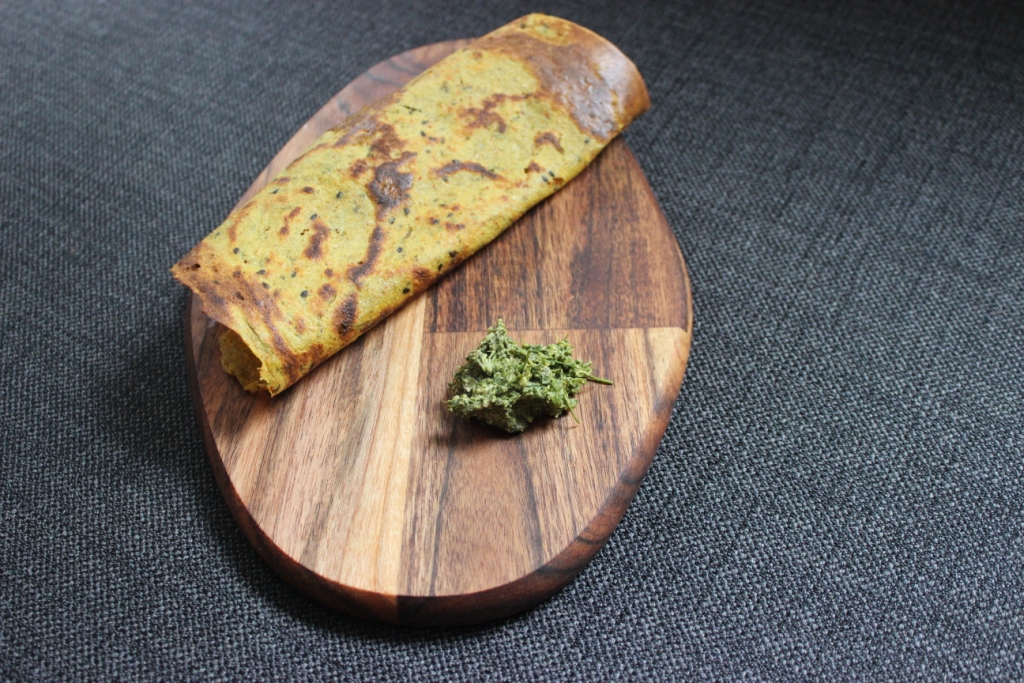 The Chila is ready to eat. Enjoy it warm with ketchup or coriander chutney. Of course this dish can also fly solo ;). You can adjust the roasting time and flame based on the desired crispness.
Hope you enjoy this dish as much as we did. Leave a comment below on how it turned out if you try it! Hit the follow button to receive updates on my upcoming posts.
Until the next post I wish you all Happy Experimenting!
Cheers,
VeggieLab Amateur Chef