Leftover food can make for very interesting dishes. It is a great way to recycle leftover food instead of throwing it away in the bin. Today, one of the biggest challenges facing the world is wastage of food. Roughly one third of the food produced in the world for human consumption every year — approximately 1.3 billion tonnes — gets lost or wasted.  Hunger is still one of the most urgent development challenges, yet the world is producing more than enough food.  It is appalling the amount of food gets wasted. Some might argue that food is never really wasted it is degraded by micro-organisms which eventually becomes food for them. But consider the energy we wasted in producing, delivery and cooking. Did you know – Just one quarter of all wasted food could feed the 795 million undernourished people around the world who suffer from hunger.
But let's look at some simple ways you can re-use this food instead of throwing it.
One could give away the food or donate it to someone who might be going hungry or appreciate the dish you have cooked.
Eating the same food again can be boring for some people, so there is a very simple way by recycling it to make interesting dishes. Usually food has a longer shelf life than many of us think.
We had gone on a hiking trip a few days ago. I had made this south India style yogurt rice. I basically sauteed some mixed lentils and cumin in a tsp of oil. Thereafter add the rice and yogurt to this. However it turns out it was a bit much and I had two bowl full of rice leftover. Both of us didn't want to eat this rice the next day. So I thought to re-cycling it. You could pretty much apply this to any leftover rice preparation. It forms a great appetizer and serves about 2-3 people. I was able to make around 10 cutlets. So let's get started.
Ingredients
Leftover Rice Preparation – 2 bowls
Chickpea Flour – 1 tbsp
Semolina – 1 tbsp
Rice Flour – 2 tsp
Chilli Powder – 2 tsp
Turmeric Powder – 1/2 tsp
Cumin Powder – 1 tsp
Dry Coriander – 1 tbsp
Salt to taste
Oil – 2 tbsp for shallow frying
Method
Mix all the ingredient except the oil in a bowl. It should form a semi-stiff dough which you can mold into flat balls. If you think its not stiff enough feel free to add some more flour. Rest for 10 mins.
Pour some oil in the pan and heat it.
Mold the dough into small balls and flatten it out a bit into cutlet shape.
Roast the flat balls in the pan on both sides until golden brown. Add some more oil if you think required.
Serve with yogurt dip, ketchup or chutney as per your liking.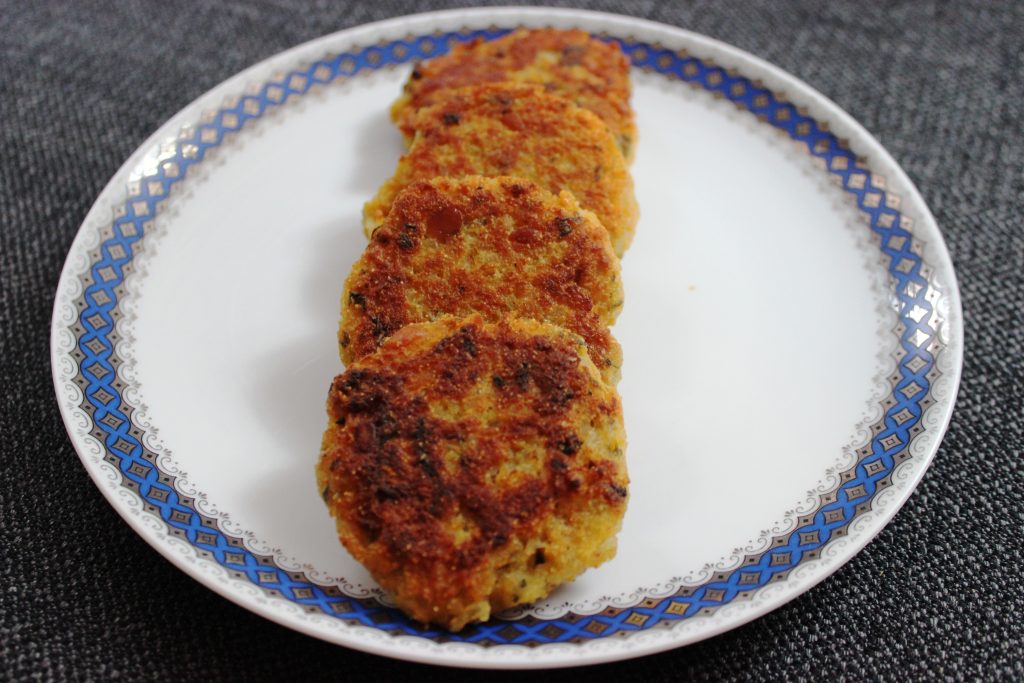 Voila! The rice preparation completely turned around. It turned into this delicious, crunchy and savory goodness. It took less than 10 mins for all these cutlets to be wiped off the plate. We absolutely loved it and is a dish worth repeating over and over again.
So make your waste into best. If you have other ideas to convert your leftover food items into such innovative experiments leave a comment below for me and the other reader. Share your experiments here. Let's inspire each other and avoid food waste and conserve energy! Join me in this initiative to reduce waste at every level starting from your own house!
Hope you enjoy this dish as much as we do. Leave a comment below on how it turned out if you try it! Hit the like button and follow button to receive updates on my upcoming posts.
Until the next post I wish you all Happy Experimenting!
Cheers,
VeggieLab Amateur Chef