Too tired? Cannot think what to make for lunch or dinner today? Craving for some comfort food? This is me practically every evening after coming home from office 🙂 No need to think further, this is the recipe for you. It is an all in one dish which takes care of satisfying your hunger pangs and at the same a complete balanced meal.
I use two types of lentils here. However you could use even more types of lentils and trust me it only gets better. Lentils are really a powerhouse of proteins for all the vegetarians and vegans out there. The next time someone asks "You are a vegan, oh my God, how do you get your proteins?", Lentils is the answer to this. One must try to include lentils in at least one meal a day. Indians typically have this as a standard part of a complete meal and hence Indian vegetarians rarely have an issues with protein. I grew up in a vegetarian household and never had any protein deficiencies as a child. We had a lentil curry for every lunch. What I present here today is a variant of this very curry. By the way it is a gluten free dish.
I used two kinds of lentils for this curry, split chickpea lentil (Chana daal) and split moong lentil (Mogar daal). While doing some research I came across some interesting facts about Chana daal  that surprised me –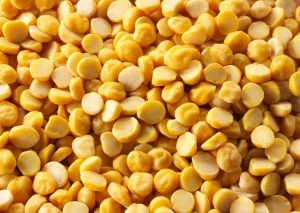 Vegan Protein – When chana daal is combined with rice and roti (flat bread), it provides the essential amino acids for complete protein dosage of the body.
Highly Nutritious – Chana dal is high in fibre, zinc, calcium, protein and folate. It is low in fat and helps to lower cholesterol.
Balances Blood Sugar – Chana dal is also good for diabetic patients, as it has a very low hypoglycaemic index.
Coming to yellow moong daal. This as well has tons of benefits. Some top interesting ones –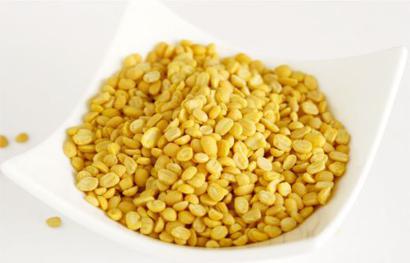 Easy to Digest Vegan Protein – Yellow moong dal is extremely light and easy to digest.
Balances Vitamins – Moong beans are rich in vitamin B-1, vitamin C and vitamin B-6. These vitamins are essential to perform several body functions. It is rich in potassium and iron too.
So I hope you are now excited to also see how to make use of these ingredients into a delicious curry. Let's start by collecting the stuff we would need. This would serve about 4 persons and takes about 15-20 mins to prepare.
Ingredients
Split Chickpea Lentil (Chana daal) – 1/4 cup
Split Yellow Moong Lentil (Mogar daal) – 1/2 cup
Zucchini – 1 medium size
Tomato – 2 medium size
Onion -1 medium (optional – choose any other vegetable you like)
Ginger – 1 inch
Garlic – 1 clove (optional)
Coriander – a handful freshly chopped or dry
Turmeric – 1/2 tsp
Cumin Powder – 1 tsp
Corriander powder – 1/2 tsp (optional)
Garam Masala – 1/2 tsp (optional)
Chilli Powder – 1 tsp (optionally – chop one green chilli)
Sugar – 1/2 tsp (Substitute with jaggery – a small piece) 
Oil or Ghee – 1/2 tsp
Lemon Juice – 2 tsp freshly squeezed (adjust as per your liking)
Salt to taste
Method
Wash the lentils and transfer to a pressure cooker.
Wash the vegetables and chop to small pieces. Transfer to the pressure cooker.
Grate the ginger and garlic. Add to the pressure cooker.
Add all the other ingredients tot he pressure cooker (Except the lemon juice and fresh coriander).
Add 2 cups of water and close the pressure cooker. Cook for upto 6 whistles.
Once the pressure cooker has cooled down, open the cooker. Mix the curry with a laddle and heat for a few minutes. Add finally the lemon juice and mix. Taste to adjust the salt and lemon.
Garnish on top with coriander. Serve with rice.
Voila your one-pot vegetable lentil curry is ready to eat. I served it with saffron basmati rice. It tastes absolutely delightful and fills you up. I try to make this at least once a week. Mostly on days I am too tired to think what to make! 🙂 We love it since it is really quick to prepare and tastes super nice. It is the ultimate comfort food too!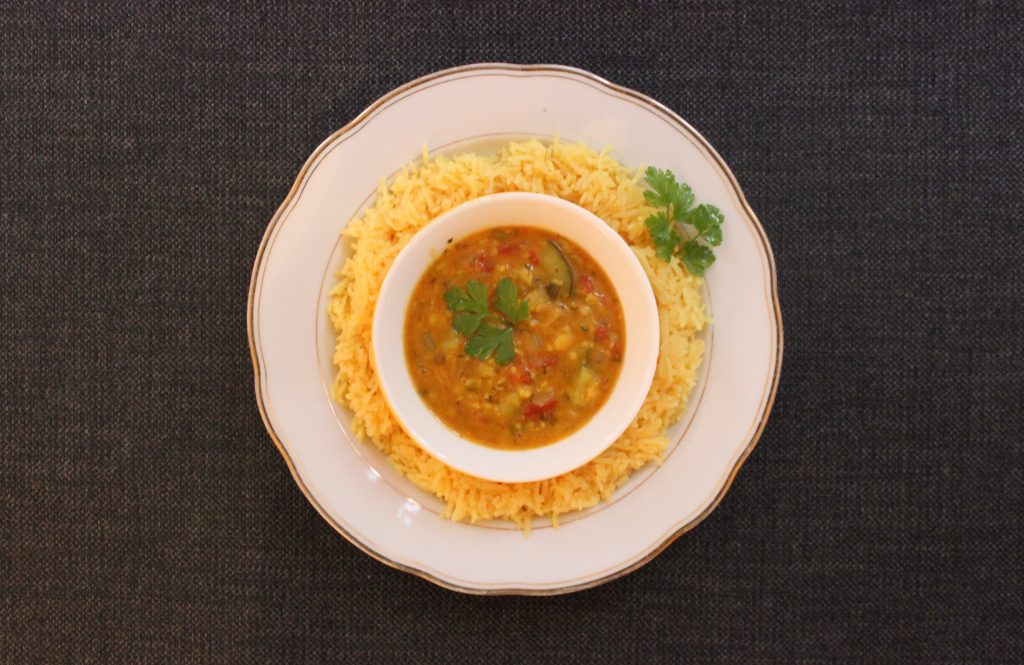 Hope you enjoy this dish as much as we do. Leave a comment below on how it turned out if you try it! Hit the like button and follow button to receive updates on my upcoming posts.
Until the next post I wish you all Happy Experimenting!
Cheers,
VeggieLab Amateur Chef