Sandwiches are a great quick fix for the lazy cook in you. I am used to having rotis (indian flat bread) along with some vegetables or curries on the side for lunch. I think its a lot of effort to make rotis. I have great appreciation for my mother and all you wonderful women out there who religiously make rotis, every single day. The lazy girl in me automatically looks for alternates. A whole wheat multi-grain bread forms a great substitute in my view. A warm sandwich which has some veggies in it would form a great option for lunch.
The golden toast is one of favorite sandwiches which I indulge in from time to time. It fills you up and is delicious. I am sure the kids will love it. It is vegan and offers a great potential to experiment further with. I use this amazing vegan multi-grain bread which is made of Oats and rye flakes. In addition it is loaded with whole seeds such as flax seeds and sunflower seeds. This ensures that you get protein and healthy fats. Many of us don't know that flax seeds are a great vegan source of omega 3 fatty acids.
Let's see what else you will need and how to make it. The recipe will serve 2 persons.
Ingredients
Multi-Grain Toast Bread – 4 slices
Potatoes – 2 medium size potatoes (you could optionally use sweet or red potatoes as well to make it healthier)
Onions – 1 medium size
Chili Flakes – 2 tsp
Garlic – Dry powder to sprinkle on top (also optional)
Lemon – 1 tsp (Optionally. I just love lemon, i think it makes everything taste even better and plus why should one say no to Vitamin C – the immunity boaster)
Sesame Seeds – 1 tsp Black and White 
Turmeric – 1/2 tsp (this is not for flavor but rather health benefit – as shared in my previous recipe its a great blood purifier to try to add it in small quantities to everything)
Fresh coriander – a few sprigs chopped
Olive oil – 1 tsp (optionally regular cooking oil)
Salt to taste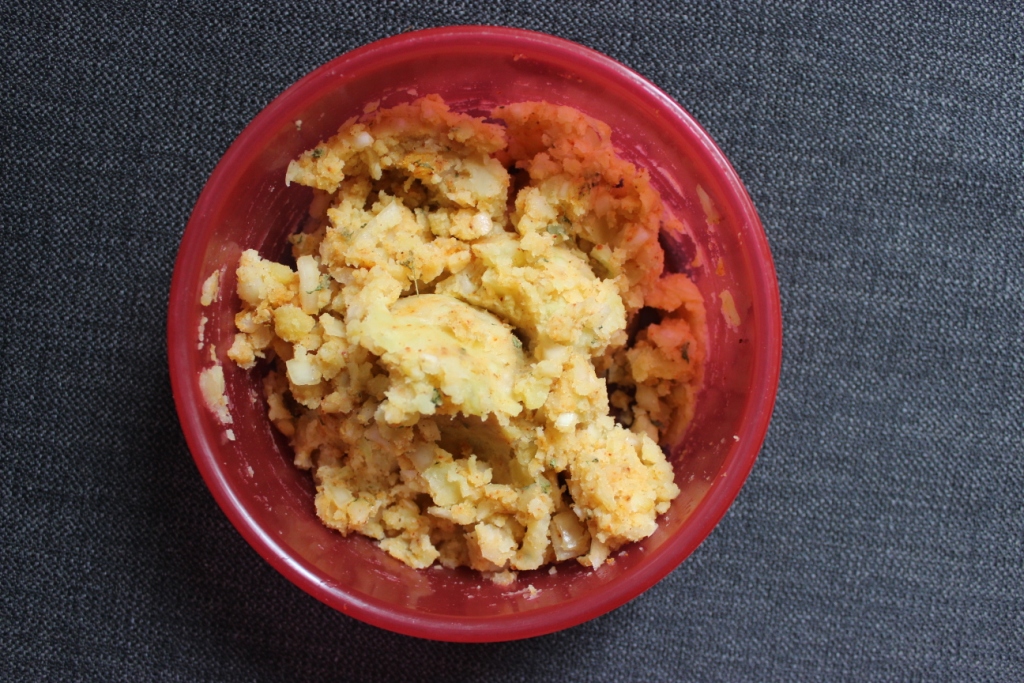 Method
Peel and chop the potatoes into large to medium size pieces. Then boil them. The trick here is if you peel them and boil it a lot faster. Plus after its boiled you should rinse and dry them a bit to remove the extra starch (making it more guilt-free). If you are interested in a Jain version just use green bananas (raw bananas).
Chop an onion finely.
Mix the onions, potatoes, turmeric, 1 tsp of chili flakes, garlic powder, lemon juice, coriander and salt to taste. Mash everything together.
Sprinkle the olive oil on the slices of bread on one side.
Flip the slices of bread and layer with the mashed potato filling. You might notice the filling is very similar to the base of vegan, gluten free pizza. So its multi-use!! 😉
Sprinkle with the sesame seeds.
Preheat the oven to 180 deg Celsius. Bake the slices at 180 deg Celsius for 10-15 mins until its golden brown.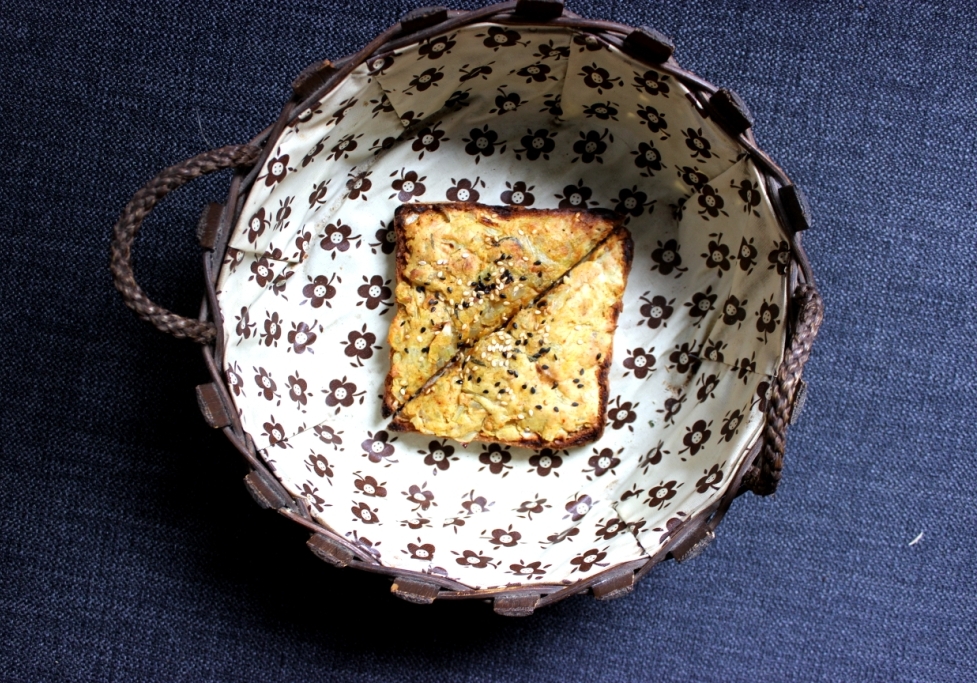 The open sandwich or the golden toast is ready to eat. Enjoy it warm with ketchup or coriander chutney. Of course this dish can also fly solo ;). You can adjust the baking time based on the desired crispness. As I say feel free to experiment with the filling.
Hope you enjoy this dish as much as we did. Leave a comment below on how it turned out if you try it! Hit the follow button to receive updates on my upcoming posts.
Until the next post I wish you all Happy Experimenting!
Cheers,
VeggieLab Amateur Chef