When you love Oreos you got to love everything you can possibly make with it. Who doesn't love Oreos!? The chocolate biscuits with creamy goodness. Oreo has achieved phenomenal love from all over the world. No one loves Oreos more than Americans. Oreos was first introduced in 1912 and since then has become the best-selling cookie in America.
Some fun facts about Oreos:
6th March is declared as National Oreo Day in America.
More than 450 billion Oreos have been sold since 1912.
If all the Oreos ever manufactured were stacked, they could reach the moon and back more than five times.
Almost anyone can eat them. Oreo cookies totally vegan and kosher.
The pattern on the chocolate biscuit is made up of 12 dots, 12 flowers, 12 dashes, and 90 ridges around the edge.
From beginning to end, it on average takes 59 minutes to produce a single Oreo cookie.
Hehehehe…aren't they amusing! There are tons of Oreo themed products out there. We shall make Oreo shake today!
A big disclaimer  before I proceed, this is my husband's experiment and super unhealthy but super delicious!!! 😉 This recipe serves for one glass of Oreo Shake.
Ingredients
Regular Oreo Cookies – 6 cookies
Chilled Milk – 1 glass
Method
Pour the milk and 4 Oreos in a blender. Blend at high speed. I used a hand blender. Move the blender to create more froth.
Pour into a glass and crush the leftover Oreos on top.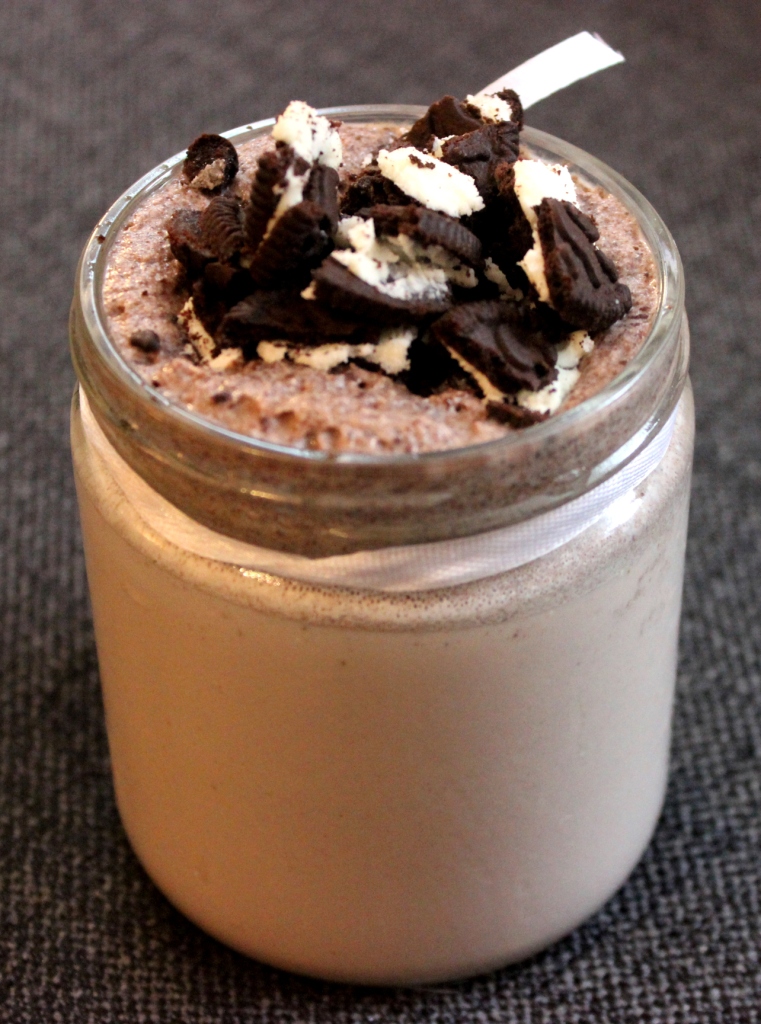 Voila your drink is ready! Enjoy this utterly delicious and creamy drink. It won't last longer than a few minutes, that's a claim! It is the ultimate indulging beverage. Somehow my husband  just doesn't feel guilty making it or drinking it. I, on the other hand have to restrain myself at least 3 out of 5 times he makes it. It's so yummy, it takes my all  strength trust me!
Hope you enjoy this shake as much as we do every single time. Leave a comment below on how it turned out if you try it! Hit the follow button to receive updates on my upcoming posts.
Until the next post I wish you all Happy Experimenting!
Cheers,
VeggieLab Amateur Chef