Totally vegan, gluten free and deliciously healthy! Spicy flat bread made with pearl millet flour and vegetables. Pearl millet is the king of grains. It is the most widely grown millet and is known for its health benefits. It is cultivated in countries of Africa and the Indian subcontinent since prehistoric times. What is unique about this cereal is that it may be as creamy as mashed potatoes or as fluffy as rice. Apart from offering excellent taste, these millets contain essential mineral and nutrients, which provide the body with a variety of advantages. So let me share with you the top 2 reasons why you should include pearl millet in your diet –
Controlling Diabetes: It is high in fibre content and hence tends to digest slowly. This results at a slower rate to release glucose. This helps to maintain the healthy blood sugar levels for a long period of time.
Weight Loss: Due to the high fibre content it helps curb hunger for a long span of time eventually helping in weight loss and digestion.
Ofcourse there are tons of other health benefits of this flour.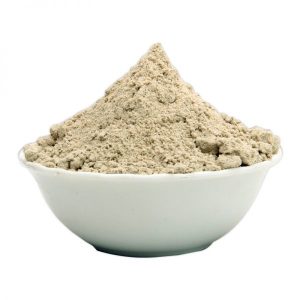 I really love the flat bread made with this flour. But at times it is difficult to convince my husband to have this healthy flour. So, I had to make it tastier so that he would eat it as well. I added some spices to spice it up a bit. In addition it is always a good idea to use some fresh vegetables to add the necessary nutrients to the meal.  So let's get started. It will make 4 flat breads and serve 2 people.
Ingredients
Pearl Millet Flour – 1 cup
Potatoes – 1/2 cup grated
Zucchini – 1/2 cup grated
Onion – 1 medium
Turmeric Powder – 1/2 tsp
Chilli Powder – 1 tsp
Cumin Powder – 1 tsp
Water – approx 1/2 cup
Salt to taste
Oil – to roast
Method
Grate the potatoes and zucchini.
Chop the onion finely.
Take the flour in a bowl, add the spices, salt and vegetables.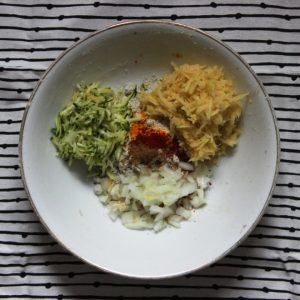 Knead into a dough using the water. Carefully add the water carefully to make a stiff dough as you see in the picture below. You may, may not need the complete half cup of water.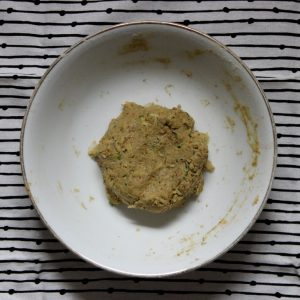 Separate the dough into 4 balls. Roll or pat to make flat.
Spray some oil to a pan and roast on both sides until golden brown.
Serve hot with some dry garlic-peanut chutney or ketchup.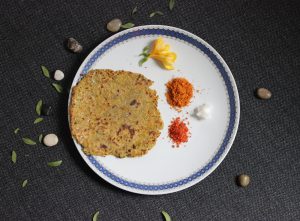 Voila the pearl millet flat bread is ready to eat! I must say it was an extremely successful experiment. We had them for breakfast but they form a great meal 🙂 I managed to eat only one but my husband to my surprise ate the other three! So I say – experiment successful! 😉
Hope you enjoy this dish as much as we do. Leave a comment below on how it turned out if you try it! Hit the like button and follow button to receive updates on my upcoming posts.
Until the next post I wish you all Happy Experimenting!
Cheers,
VeggieLab Amateur Chef