Experimenting can be a funny thing. It is difficult to predict how it will turn out. It might turn out to be a disaster or can turn out to be an ultimate success. So eventually it boils down to the fact that you may never make it again or make it again and again. It's one or the other.
The chocolate orange pudding is one such experiment. I actually had some guests over and I didn't have any time to make an elaborate dessert to choose to make this one.  You won't believe how incredibly simple it is. To make a simple pudding special I use some ingredients easily available. The trick to making simple dessert exotic is presentation. Use fancy glasses and beautiful  fruits to make this beautiful dessert gorgeous. Always remember food is ART! So get innovative and let those creative juices flowing.
This would serve 4-5 portions. So let's get started,
Ingredients
Pudding Powder – 40 gms Vanilla flavour
Milk – 500 ml 
Orange Chocolate – 50 gms, I used a 70% dark chocolate infused with orange
Maple Syrup – 1 tbsp
Brown Sugar – 1.5 tbsp
Strawberries – 4 strawberries
Method
Take 2 tbsp of cold milk and mix the pudding powder in it.
Start heating the rest of the milk. Add the pudding powder-mik mix and continue to heat.
Add the chocolate and sugar to the mix. Keep stirring to avoid sticking.
Just as it starts to thicken add the maple syrup. Heat for 2 more mins and turn the heat off.
Stir for 5 mins to cool it.
Pour into a glass or bowl in which you like to serve it. Chill for a couple of hours.
Garnish with some fruits. I used strawberries.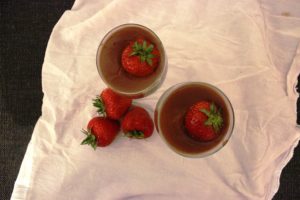 Voila your dessert is ready to gorge on! It looks beautiful and is even more tasty. The hint of orange and the flavor of maple syrup kicks the flavor up a notch. Our guests enjoyed it as well!
Hope you enjoy this dessert as much as we did. Leave a comment below on how it turned out if you try it! Hit the follow button to receive updates on my upcoming posts.
Until the next post I wish you all Happy Experimenting!
Cheers,
VeggieLab Amateur Chef