I can't get enough of Mediterranean food. We had been browsing through the photos of our Greece trip. I couldn't help but make something Greek Style to get over this nostalgia. Greece was so beautiful I cannot express. It was the perfect family holiday at a perfect place. We went there about 2 years ago. I have to share with you at least one picture from this amazing trip we took. We visited Athens, Santorini and Mykonos – the typical Greek route. Some might say 'oh so touristic' but it lives up to every bit of the hype! Below is the picture from the beautiful Santorini island!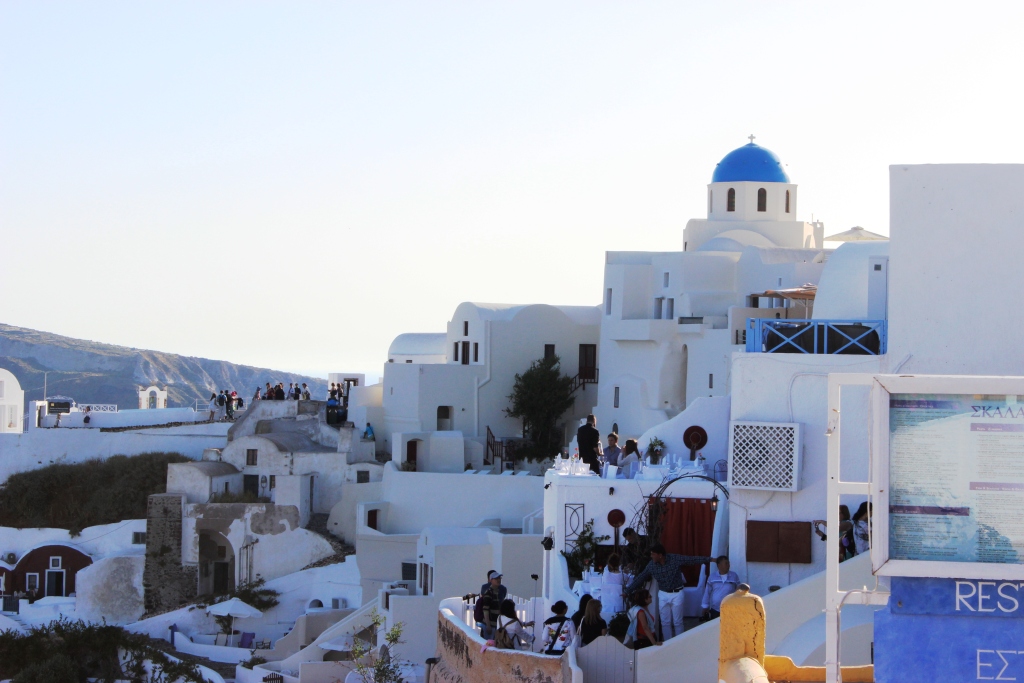 Isn't it breathtaking! Coming back to the wrap. I call it Greek since I roasted the veggies Greek style and paired it with the famous Greek tzatziki dip and hummus. Unfortunately I didn't have time to prepare hummus so I just bought some from the supermarket. You can and should of course make hummus from scratch when possible. I have shared a recipe earlier this week (Homemade Hummus). I will show how to make the Tzatziki Dip and the Spinach Veggie Wrap. Let's begin by collecting the ingredients. This will suffice for 2-3 persons.
Ingredients
Tzatziki Dip
Yogurt – 1 Cup high fat Yogurt (Greek Yogurt) or hanged yogurt
Cucumber – 1/2 cup grated 
Dry Garlic Powder – 1/2 tsp (Optional – replace with basil for a different flavor)
Lemon Juice – 1 tsp
Salt – to taste
Basil & Olives – to garnish
Spinach Veggie Wrap
Tortilla – 3 tortilla (I bought this from the super market)
Baby Spinach – 1 cup
Zucchini – 1 small zucchini
Capsicum – 1 large yellow capsicum (Any color is okay. I had the yellow capsicum so used that)
Onion – 1 large (optional)
Black Olives – seedless 1tbsp
Black Sesame Seeds – 1 tsp
Cumin Powder – 1 tsp
Garlic Powder – 1 tsp (optional)
Basil powder – 1 tsp (use fresh basil if available)
Hummus – 1 tbsp (recipe –Homemade Hummus)
Lemon Juice – 1 tsp
Salt – to taste
Vegetable Oil – 2 tsp
Method
Tzatziki Dip
Grate the cucumber. Add some salt and leave aside for some a few mins in a vessel with hole. Press to remove the excess water.
If you use Greek yogurt it can be used directly since it is thick enough. If you use normal yogurt, hang it in a thin cloth and allow it to stay for 30 mins so remove excess water.
Mix rest of ingredients together to make the dip. Tzatziki is ready. Chill in the fridge until you serve it.
Spinach Veggie Wrap
Cut the capsicum, onion and zucchini into medium size pieces.
Take 2 tsp of oil in a pan. Once the oil is hot add the cut vegetables and saute them for 5-6 mins. Don't overcook the vegetables. Add the sesame seeds, garlic powder, cumin powder, basil powder and salt.  Shut the heat and add the lemon juice. Mix well.
Now let's start to assemble the wrap. Lightly roast the tortilla. Transfer to the plate and spread 1 tsp of hummus in the middle.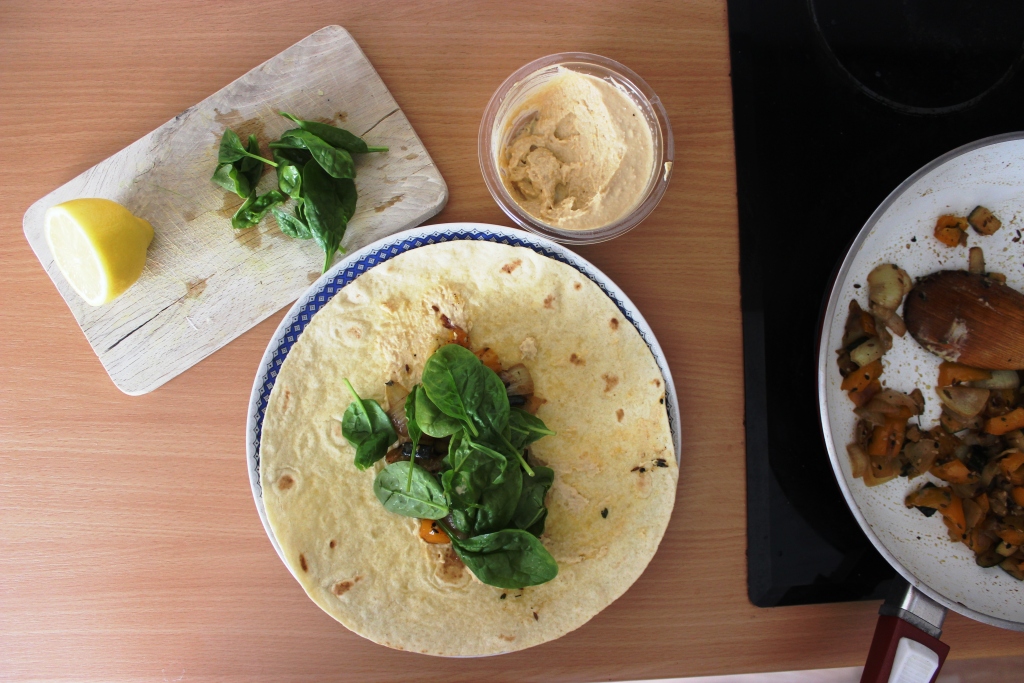 Top it up with the roasted veggies. Cut 4 pieces black olives and put on top. Top that up with a handful if washed baby spinach leaves as you see in the picture above.
Finally top it with 1 tsp of tzatziki dip.
Roll the tortilla in a tight wrap and cut into two pieces as you see below.
Serve with the Tzatziki dip and a lemon wedge.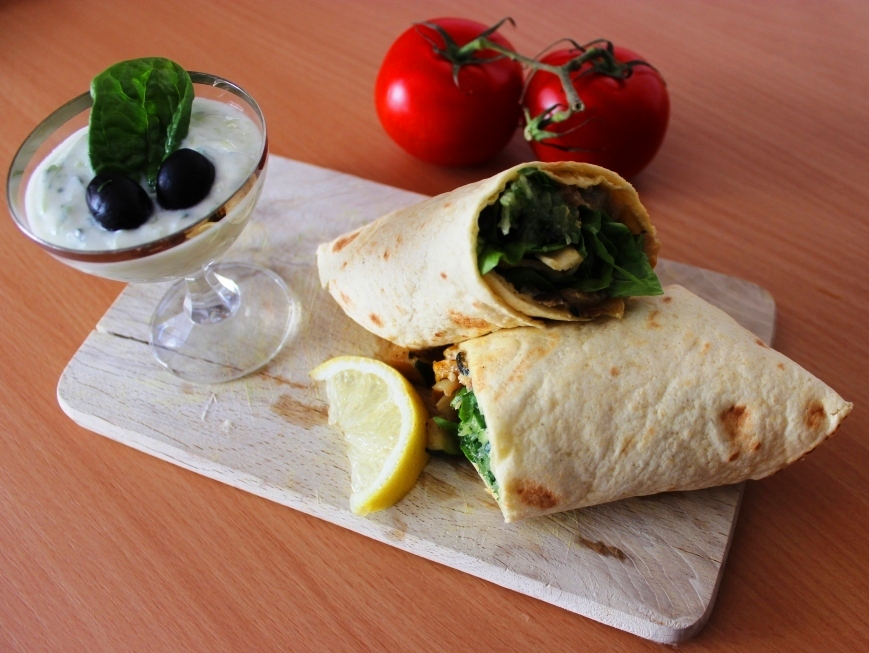 Voila your wrap is ready to eat. It is best to assemble the wrap just before you want to eat it, else it might loose it's integrity. To make it vegan just omit the tzatziki dip and instead add a bit more hummus. In addition this is really a perfect whole meal. It includes proteins, carbohydrates, vegetables and green fresh leaves.
It was an absolute pleasure to eat the wrap while enjoying the rest of pictures of our trip. We both loved it. In all we made three wraps and it was perfect for the two of us. Hope you enjoy this dish as much as we do. Leave a comment below on how it turned out if you try it! Hit the like button and follow button to receive updates on my upcoming posts.
Until the next post I wish you all Happy Experimenting!
Cheers,
VeggieLab Amateur Chef