Cheese Cake – many wonder how could a cake with cheese ever be something nice. At least I did until many years ago when I had no idea what cheese cake was. One day I decided to try out a vegetarian cheese cake in India. It was so creamy that I almost did not like it. I felt like my throat would get sore due to extreme creaminess. This experience made me averse to cheese cake. When I moved to Germany I was introduced to a baked cheese cake. I wondered at first how cheese cake could be baked. However I could never try one since typically the main ingredient of a baked cheese cake is egg. Being a vegetarian I did not eat eggs and hence could only admire the cake and hear how delicious it was. One of German friends decided to dig up a eggless recipe of the Bavarian Cheesecake and made it for me. Trust me it was so damn delicious perhaps the best cake I ever ate. I knew at that moment, I had to learn it and make it again and again.
German-style cheesecake (or as they call it – Käsekuchen or Quarkkuchen) uses quark and a freshly made dough, not Graham crackers.  This recipe is sometimes translated into English using cottage cheese, but a true Bavarian Quarkkuchen uses quark which is cheese made from sour milk. I have not tried to make quark by myself at home but when I google it, it is easy to find many recipes. The process appears similar to making cottage cheese but with milk and buttermilk.
Although it may sound complex, it is quite easy to make. So easy that my husband also knows how to make it. Every time we want to eat cheese cake he takes over and I become his humble assistant. So if you are as excited as me let's start to make it.
Ingredients
Base
All purpose flour – 150 g (substitute – whole wheat)
Sugar – 60 g 
Vanilla Sugar – 1 tbsp Vanilla Sugar (substitute – 1 tsp Vanilla Essence)
Baking powder – 1 tsp 
Baking powder – 1 tsp
Butter – 75 g Butter or Margarine
Salt – a pinch of salt
Water – to knead, you would need 2 tsp to 1 tbsp of water
Filling
Quark – 500 g Quark (low fat)
Quark – 250 g Quark (high fat), optionally use the same variant of quark as above
Sugar – 150 g
Vanilla Sugar – 1 tbsp Vanilla Sugar (substitute – 1 tsp Vanilla Essence)
Lemon Juice – 1 tbsp freshly squeezed lemon juice
Pudding Powder – 40 g vanilla flavored pudding powder 
Sour Cream – 125 g sour cream
Fresh cream – 200 g fresh cream
Mandarin – 200 g Mandarin (use any fruit you like)
Method
Base
Mix all the dry ingredients well.
Cut the butter into small pieces and add to the dry ingredients.
Knead the dough and add water as needed.
Wrap the kneaded dough tightly and keep in the refrigerator.
If you want to take short cuts, use ready cookie dough or grind graham crackers with butter.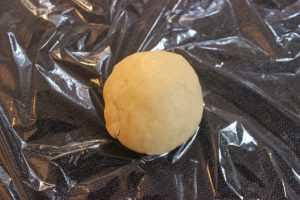 Filling & Assembling
Whip the fresh cream until soft peaks appear. Store in the refrigerator until the rest of the filling is prepared.
Mix the quarks, sour cream, sugar, vanilla sugar and lemon juice with a hand mixer.
Add the pudding powder and sugar and mix with a hand mixer.
Fold in the whipped cream and half of the fruits. Store the mixer in the fridge until you prepare the base.
Start to pre-heat the oven at 170 deg Celsius.
Take a pie or cake tin (9 inch) and flatten the dough in the tin.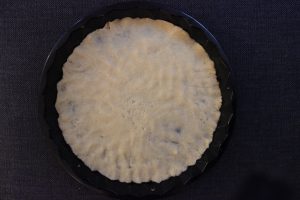 Pour the filling into the tin thereafter. Decorate with mandarins on top.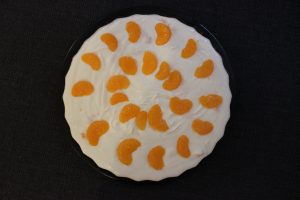 Bake at 170 deg Celcius for 45-60 mins. Sometimes the oven tends to be too hot and burn some parts so be careful of that. In some ovens it needs only 45 mins and some may need 60 mins.  It will blow up beautifully. Shut the oven once you see the crust has a beautiful golden color after 45 mins.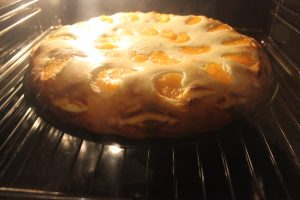 Now be careful this is the most important step – do not eat or serve immediately. After baking the cake, it needs to settle for at least 6-8 hours before you can eat it. It will flatten out after this and set in a beautiful way. We usually bake it in the evening so its ready to eat by morning.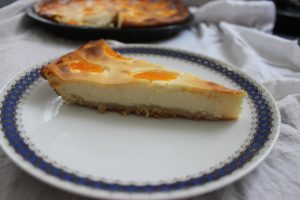 Voila, this beautiful and delicious cheese cake is ready to gorge on. Every time we make it, it doesn't last for more than 30 hours, that too since we are only two. I agree it is an indulgent cake but who cares, once in a while everyone is allowed to splurge. It so perfectly creamy and moist. The mandarin pieces inside and above are just the perfect blast of freshness to add to the creamy texture of the cake in the mouth. It pairs very well with a warm glass of Latte Macchiato.
This cake is super high on our list of recommendations. It has become so popular in our family that on several occasions we have prepared this before flying to India. We have taken it with us on a 8 hour flight from Germany to India. In this case it doesn't last more than 20 mins. 😉
Hope you enjoy this dessert as much as we do. Leave a comment below on how it turned out if you try it! Hit the follow button to receive updates on my upcoming posts.
Until the next post I wish you all Happy Experimenting!
Cheers,
VeggieLab Amateur Chef